In a digitally-driven world, consumers are fortunate to have the opportunity to choose from several different food ordering apps to order meals from their favorite restaurants with smartphones, tablets, or from desktops. Our shortlist of popular food apps includes third-party apps such as Skip the Dishes, UberEats, DoorDash, GrubHub, Foodora, and the Moduurn app alternative to high-cost third-party apps. Moduurn's fully customizable online food ordering system is gaining popularity with restaurants that know through experience that not all food ordering apps are created equal.
300 percent increase in online food ordering
Since 2014, online food ordering has grown 300% faster than dining in. A survey conducted in May 2019 found that on average American consumers use two different meal apps three times per month. Restaurants, other meal purveyors, and retail businesses are increasingly adapting their service model to leverage consumer demand and to build a digital relationship with their loyal customers.
Food ordering apps boost orders and sales
Restaurants, in particular, have discovered that third-party meal apps increase orders and sales but with strings attached. In CBC's Marketplace documentary, Battle of the Food Delivery Apps, UberEats responded to the public broadcaster's expose of its business practices by claiming that restaurants using their app "regularly see a significant increase in order volume and sales." Although these third-party apps can and do boost mobile food ordering and sales, restaurateurs are not seeing a significant increase in profits.
Third-Party giants take a big bite of sales revenue
Skip the Dishes and other third-party food ordering app giants charge a whopping 30% commission on sales. Typically, those costs are not passed on to consumers and the restaurant eats them, so to speak. With almost sixty-percent of restaurants closing within the first year of business, investing in a mobile food ordering system with such a high rate of commission is risky business.
Quality control of customer experience diminished
The risk isn't only financial. These corporate third-party app giants are taking charge of the customer experience without taking responsibility. When deliveries are late, meals arrive cold, missing, or tousled during transport, the customer blames the restaurant not the third-party company. The restaurant has one chance to deliver a positive customer experience. Making it a good one really counts towards building a loyal customer base. Restaurateurs tell us that the third-party app supplier takes no responsibility, and offers no support. In addition, hidden fees for these online restaurant ordering systems for both consumers and restaurants obscure where the money is going.
Where consumers want their money to go
The third-party app's commission rate of 30 percent mentioned above is calculated on the net sales of every customer order. That is a lot of money being siphoned out of local economies. A recent U.K. study shows that 70 percent of consumers would rather order directly from the restaurant than a third-party food ordering service.
Moduurn levels the playing field
Many small to mid-size businesses don't have the skills, budget or resources to build a mobile ordering app that's unique to their brand, products, and culture. This is where Moduurn levels the playing field. Our customizable commission-free mobile ordering app enables businesses to easily extend their brand to customers and increase online/mobile sales while boosting customer engagement and retaining more of its sales revenue. Below is an example of a  client using Moduurn's app and online ordering system for restaurants in its three locations.
Restaurant chain's cost-savings with Moduurn app
A Moduurn client recently launched their newly branded mobile ordering app with only the link to the app published on their website. In less than one month, sales from their three locations totaled $12,502 as seen in the chart below.
In this instance, Moduurn's service-based fees cost the restaurant $3,625 less or 26.1% less than the commission that would have been paid to Skip the Dishes' for the same amount of sales. The bottom line is that $3,625 in sales revenue earned by the restaurant remains with the restaurant and recirculates in the local economy.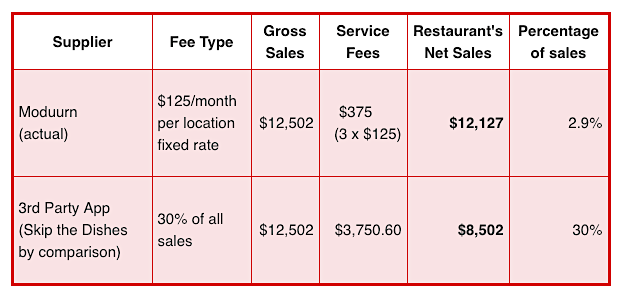 Moduurn: Your brand your app
Moduurn is a commission-free cloud-based mobile ordering app. Completely customizable, Moduurn's mobile app extends restaurants onto consumer's mobile phones while offering easy integration with existing POS systems and other solutions that restaurants use, like loyalty, feedback systems, and more. With customizable menus, daily features can be shared with consumers while giving them the opportunity to skip the lineup. Plus, restaurants get insight into important information of consumers that they own, to help future-proof their business with a simple, easy-to-use, and robust mobile commerce solution.
We thought you might like..

Moduurn is Simple and Easy to Use, Helping You Get Launched Quickly and Effectively.
get started